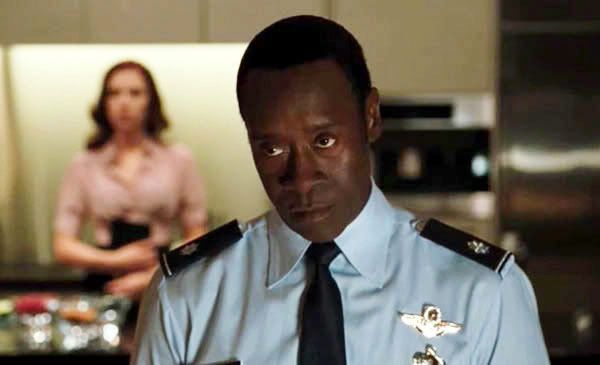 Dear Avengers and Iron Man movieverse fandom,

I've noticed there's fanfic in which poor Rhodey has been demoted three whole ranks. Here are some facts that may prove helpful when writing:
1)  He is Lieutenant COLONEL James Rhodes.
2)  He is addressed as "Colonel" or "Lieutenant Colonel" in conversation.
3)  His pay grade is O-5.
4)  Lieutenant Colonel is ranked above a Major (O-4) and below a full-bird Colonel (O-6).
5)  Steve would salute Rhodey and Rhodey would return the salute, not the other way around. A Captain (O-3) is two ranks below a Lt Col.
5a)  But Rhodey MAY salute Steve first, out of respect.
6)  Rhodey is NOT a Lieutenant, which is one of the two LOWEST commissioned officer ranks in the Air Force, 2nd LT (O-1) and 1st LT (O-2).
7)  His insignia is a silver oak leaf (or a black oak leaf if wearing desert cammo).
8)  Based on his rank, he's served approximately 10 to 16 years in the Air Force.
9)  He was Air Force ROTC at MIT. (It's implied, anyway, since Tony talks about them going on Spring Break together.)
Thanks,
Scroll